You're standing in your living room when, suddenly, you're overcome with the urge to redecorate. You begin pulling furniture across the floor, plumping up your couch cushions, and rearranging practically everything you can handle. Your space is bland and boring, and you're tired of feeling stuck in a home that feels cold and unwelcoming, so you begin to research accent wall ideas on the internet.
Here's the good news: you don't have to overhaul your décor or feng shui out of a dull space. All you need is a can of paint and a little creativity. In this article, we will look at how accent walls can breathe new life into your home.
Accent wall ideas: Types of Accent Walls
There are several types of accent walls that you can utilize in your home to make your living spaces really pop. Let's look at a few that are easy to create and won't break the bank.
Painted Accent Walls
Painted accent walls are a quick and effective way to add another dimension to your home. This is especially true if the interior walls in your home are all a clinical white or a drab shade of grey. More importantly, you can use textured paints and painting techniques that add more visual volume to your walls.
Wooden Accent Walls
Wooden accent walls can lean toward the pricier side of home enhancement, but there are steps that you can take to remedy that issue. For instance, you can use reclaimed wood or even stained plywood to give you a glamorous wood look. You can try various patterns and textures to tie in with the overall décor theme in your home.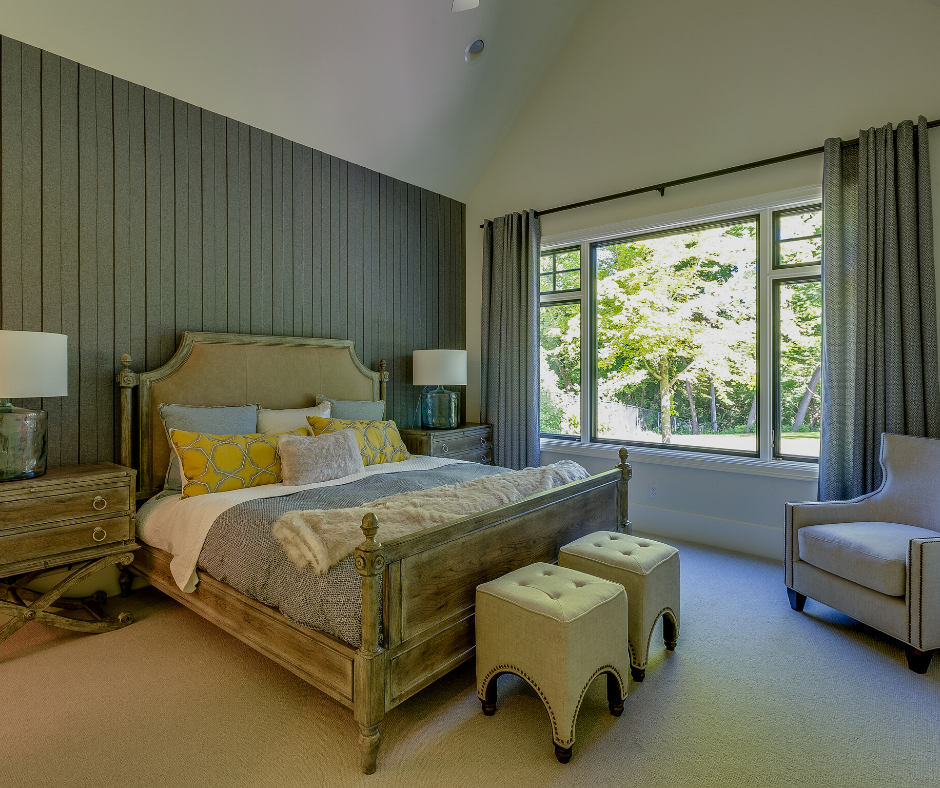 Accent wall ideas: Panel Accent Walls
This is one of the costlier wall accents, but – man – does it make a room pop! That being said, if you're not planning on creating an intricate design, there are prefabricated panels that you can cut and install all on your own. Talk about a DIYer's dream!
Wallpapered Accent Walls
Wallpaper was once a popular décor option, and it is quickly regaining traction in terms of popularity. The wonderful thing is that wallpaper is now so versatile that it can withstand time in all areas of your home – even your steamy bathroom!
While all of these are great options, we tend to favor painted accent walls, and we'll tell you why.
Accent wall ideas: Why Paint is the Best Option
The same effects you can get from using panels, wood, and wallpaper can be achieved with paint. Yes, painted accent walls don't need to be one plain color. You don't need to color block your living spaces. You can tap into several paint types, colors, and textures to achieve all this. Moreover, all you need is some painter's tape, and you can create a ton of patterns all on your own.
The best part of all of this is that it will cost you far less to accomplish, and you can have your dream accent wall wrapped up in a fraction of the time. What could be better than that?
Now, let's look at the different types of paint that we mentioned.
Accent wall ideas: Different Types of Paint for Accent Walls
There are several types of paint that you can use for interior walls. These include latex, acrylic, alkyd, and enamel paint. Depending on your finish, you can opt for high-gloss, semi-gloss, matte, satin, or eggshell. It's essential to consider your overall décor theme when picking your paint type and finish. You don't want high-gloss walls in bright colors if you have a boho beach vibe in your home. An eggshell or matte finish in neutral hues might work best.
Other than these finishes, there is also the option for a more textured look. If this is something that you'd be interested in, there are several texturing options at your disposal here as well. You could use sand, popcorn, knockdown, splatter, trowel, orange peel, or slap brush texture. Here's a little secret: there are so many other textures that you could use. Ultimately, understanding the flow of your home and your décor will give you better insight into which option would be better suited to you.
With this in mind, this is why hiring a professional contractor is so important. We at [insert contracting name] can help you make the right decisions with your accent walls, saving you time and money that you might spend on wasted or unsatisfactory efforts.
Summary
Accent walls are a great way to brighten your home and make it more inviting. We recommend trialing your accent wall ideas with paint, and we can help you with this. Paint is more forgiving and more cost-effective. Not only that, but you'll be able to quickly restore your home to "factory settings" if you ever want to sell it. If anything, this could be a way to increase the value of your home without investing too heavily into superficial changes that the next homeowner might not want.
Need to refresh your residential, commercial, or investment property? Get in touch with us today for a custom quote! Keep your eyes peeled for our next article on [insert article name here].
Follow us on Facebook for project postings.