If you're here to discover the best interior door paint, you're in the right place! With so many options now crowding the market, it can be tricky to determine what paint to choose. Of course, there are many things to consider, such as how often you'll use your door, how much sunlight it receives, and what color to choose.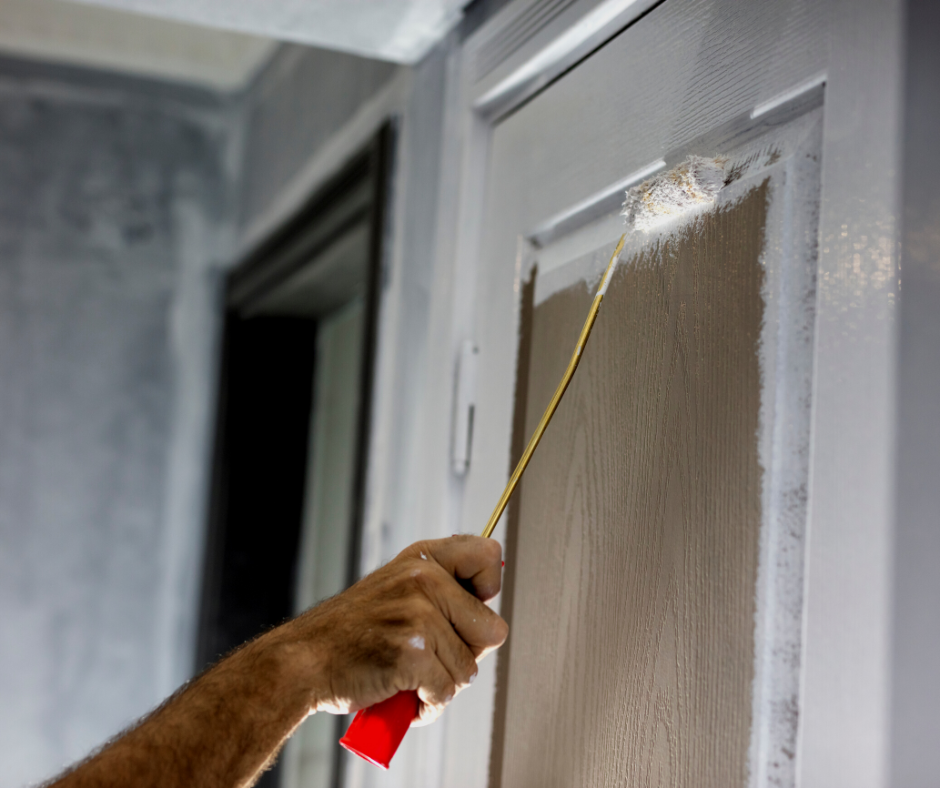 Luckily, with years of experience and knowledge in the industry backing us up, we're here to tell you what you need to know regarding this topic.
So, let's jump right in!
Types of interior door paint
As you may already know, you can apply many different paints to interior doors. Let's take a look at the most typical ones below.
Water-based paint for wood doors
Water-based paint can be excellent on interior wooden doors because it is quick-drying, meaning you can apply multiple layers within a day. Furthermore, you can clean the paintbrushes with water, and the paint doesn't produce a strong odor. Despite these benefits, water-based paint takes a fortnight to harden, and the surface can more easily chip than oil-based paint.
Oil-based paint for deep penetration
Oil-based paint provides a much higher sheen, hardens quicker, and is more durable than water-based paint. Furthermore, you can use oil-based paint to achieve a professional finish on your interior doors. Despite this, oil-based paint can produce a more pungent odor than water-based paint. Remember, brushes must be cleaned using the proper liquid. Not doing so will cost you a brush. Moreover, oil-based paints sometimes go yellow over time, mainly if you go for a white shade. We recommend avoiding oil-based paint.
High gloss paint for shiny doors
High gloss can be an excellent finish for your internal doors. Gloss paint is one of the best sheens for interior doors and helps dull surfaces stand out in your home. Furthermore, this paint can reflect light, enhancing your interior design and adding a little tone to each room's darker areas. Not only this, but high gloss paint is also incredibly durable, typically stain-resistant, and easy to clean once dried, giving it reasonably easy maintenance compared to other options like satin finishes. These benefits are beneficial if you tend to put your doors to constant use.
Semi-gloss door paint
Despite high gloss paint's advantages, semi-gloss paints are much better at covering any dents your interior doors receive from frequent usage. While semi-gloss provides less reflection and a duller finish than high gloss paint, it is easier to clean and can offer your doors a more dimensional appeal. Furthermore, semi-gloss finishes are stain-resistant and come in various colors, making it easy for you to choose your perfect preference.
What is the best interior door paint?
The truth is that there is no singular paint you should use for your interior doors, although some are better designed to be layered onto interior wooden surfaces. You can determine the best color to apply to your internal doors by considering your personal preferences, how much usage your door will receive, and your budget. We recommend choosing water-based paints over oil-based ones due to the easy maintenance, high coverage, and advancements in water-based technology, which have helped them increase in quality over the years. Despite this, a good gloss can be helpful with a particularly tight budget.
We got you covered with your door painting
Hopefully, this blog has taught you how to paint your interior doors like a pro! However, if you're still unsure about which paint you should use for your home and want a little guidance, don't worry – our experienced team here at Link Solutions can provide full coverage for delivering top-quality painting services, expert advice, and friendly customer service.
We'd be delighted to help. Just think – your solution could be just one phone call away!
Check out our work on our Facebook page.