Best Paint for Kids' Bedrooms and Playrooms: Kids can be tough on your home's walls. From dirty handprints to random artwork, not to mention the everyday dirt and debris, you need a paint finish that can handle a good scrubbing occasionally. You also want paint that's easy to apply, durable, attractive, and safe for your kids. Whether you're painting the rooms where your children sleep, play, or spend a lot of time, this simple guide will help you decide what type and color of paint to use for each element, from the walls to the trim.
Tips for Choosing the Right Paint for Your Kid's Rooms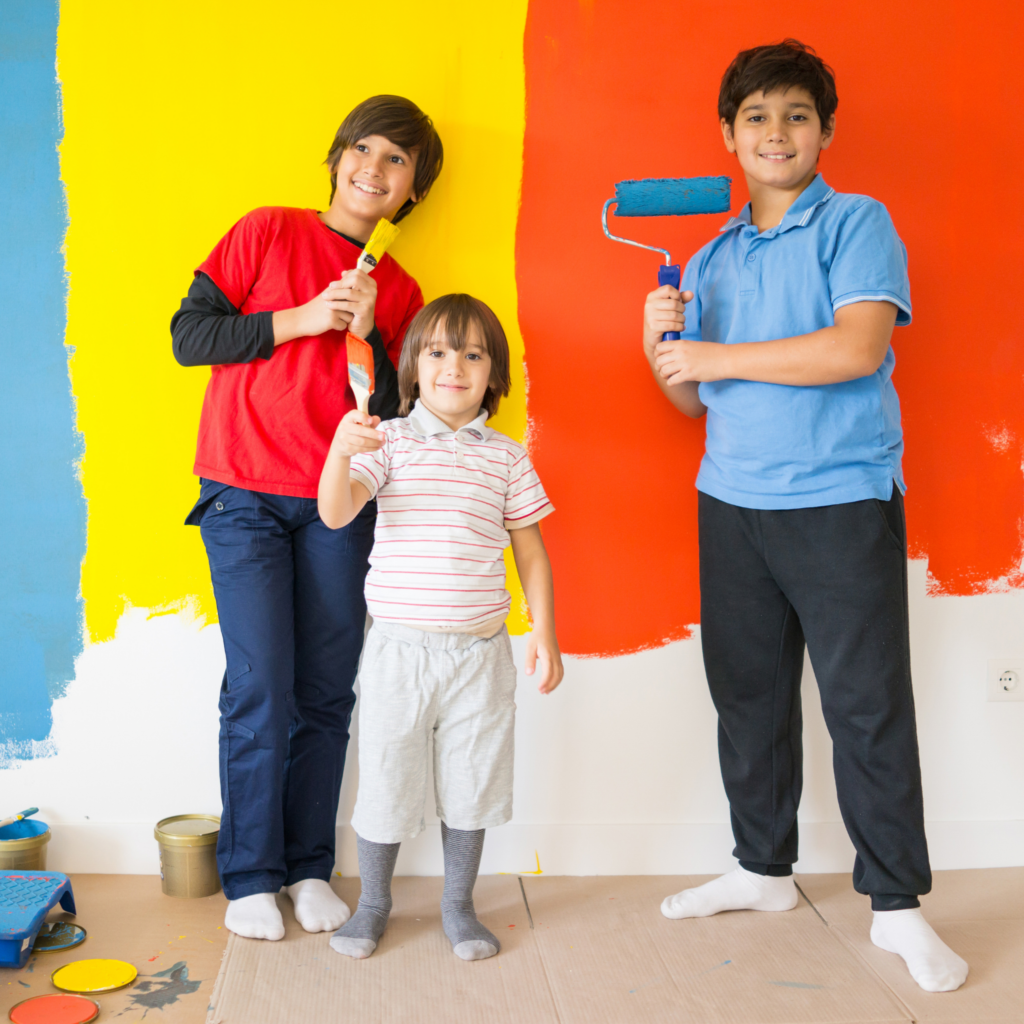 Resting a safe, pleasing environment for your children is your top priority. Painting their room, nursery, or playroom is one way you can do that. But, when painting spaces intended for children, you must consider several things before you begin including:
Best Paint for Kids' Bedrooms and Playrooms: Paint Sheen Matters
Washability is a necessity for walls when kids are around. The best paint sheen for maximum washability is a satin or eggshell finish on the wall. A simple solution of mild soap, water, and a soft cloth will clean most walls. Both finishes can even handle a scrubbing pad for tough stains and spots if needed. A semi-gloss finish is generally ideal for resisting handprints and other stains on door and window trim, and, again, it's super easy to clean.
Best Paint for Kids' Bedrooms and Playrooms:  Choose the Right Color
You want to provide a comforting, stimulating, nurturing environment for your children, and the color of the walls plays a large part in that. Soft, neutral tones are ideal for baby and toddler rooms. You'll want to consult with (and negotiate with) older kids to find the perfect color for the entire room or an amazing pop of color for the ultimate accent wall.
Opt for Low VOC Paints
Volatile organic compounds, or VOCs, are responsible for the strong odor paint fumes give off. Your family may suffer from health effects like headaches, vomiting, and dizziness from short-term exposure. Long-term exposure to high levels of some VOCs is thought to cause liver and kidney damage and even some cancers. Infants and children may be even more susceptible. Low VOC paints to ensure safety for your entire family.
Buy High-Quality Paints
Whenever you're investing in your home, choosing the highest quality you can afford is a wise idea. Choose a well-known interior paint brand, such as Benjamin Moore or Sherwin-Williams. After all, you want the paint job to look great and last long.
Professional Kids Room Painting in Marlborough, MA
Still not sure what paint to use for your kids' rooms? Contact LinkSolutions today to talk to one of our interior painting specialists. From choosing the right paint to prepping the walls, applying the paint, and cleaning up, we're your paint partners from start to finish.No job is too big or small; click for a free estimate.
Looks us up on Google to see our reviews.