Painting Concrete Walls and Surfaces: The dull gray color of the concrete walls and floor in your home's basement and garage look unattractive. Luckily, you can apply a coat of paint to lighten and brighten the color. You don't have to limit your concrete painting to the inside. Paint can be used on any concrete surface on the interior or exterior of your home. As with all painting projects, however, you need to start with thorough preparation, choose the right type, sheen, and color of paint, and apply it correctly for the best results. After reading this article, you should have no trouble doing that!
Tips for Successfully Painting Concrete Surfaces! What you need to know.
Painting Concrete Walls and Surfaces: Prepare the Concrete for Painting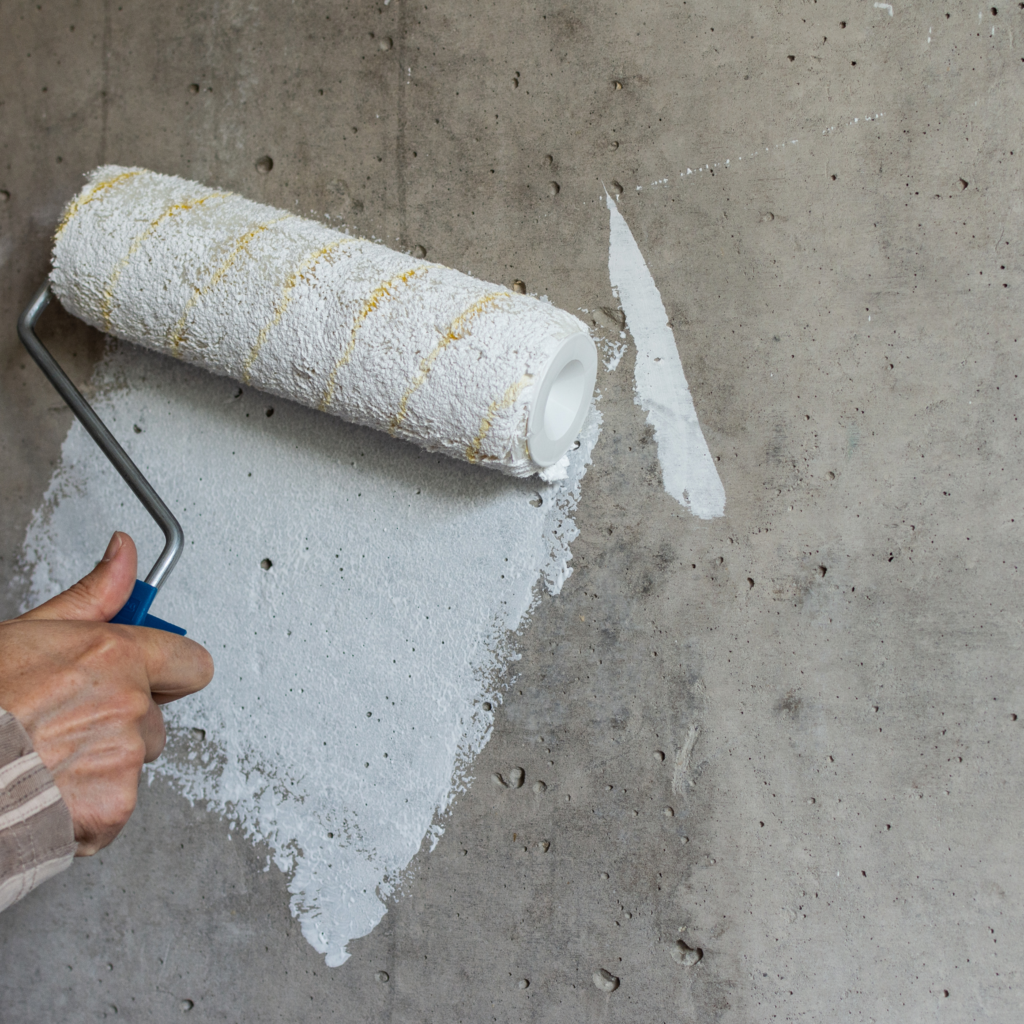 One of the first steps when painting any surface is the prep work for concrete, which starts with cleaning away dirt and debris. Sweep, vacuum or pressure wash the area to ensure all foreign items and materials are removed. Let dry and apply an etching solution. This critical step will help create a smooth surface for the paint to adhere to.
Choose the Appropriate Paint for the Concrete and the Space
When choosing paint, be sure to choose one specifically formulated for use on concrete. We highly recommend Benjamin Moore masonry products for their high-quality, durability, and performance. When painting trim, enclosed spaces, opt for lighter, brighter colors to help open up the room. Remember that higher gloss fishes offer increased cleanability as well.
Painting Concrete Walls and Surfaces: Carefully Apply a Good Primer
Avoiding future issues with peeling, bubbling, and fading paint begins with an excellent primer coat. Whether you are painting a concrete floor, wall, or entire structure, this essential step must be completed. Once you have applied the primer, allow ample time to dry before applying the paint.
Apply Two to Three Coats of Paint
Once the primer has thoroughly dried, it's time to apply the paint. Use a brush to cut around doors, windows, ceilings, and other obstructions. Rather than applying thick coats, it's best to use a concrete paint roller to apply two to three thin coats to the flat surfaces. Let the paint dry between cats for best results.
Hire a Professional Painter for the Best Results
Painting concrete surfaces can be challenging. If you're unsure about your ability to get the job done, contact us at Link Solutions, and we'' be happy to lend a hand. Our crew of professional painters can paint any type of surface, including concrete.
Check out our reviews on Google.