Painting vs. replacing siding in Natick: Your home exterior has been looking a bit drab for quite some time now, and you're wondering how to brighten the place up a little. Here's the thing, when it comes to zhuzh up your house, the last thing you want to do is break the bank unnecessarily. Painting vs. replacing exterior siding is a reasonable question when considering a makeover. 
So, deciding whether to repaint your home's exterior or remove the old siding and start from scratch is a good starter question. But the answer isn't as straightforward as you might think. To find a solution that suits your budget and immediate needs, let's start with some scenarios in favor of each choice.
Painting vs. replacing siding in Natick: Why You Should Repaint Your Home's Exterior
We'll start with the most obvious pro of repainting your home's exterior, and that is the cost. With the unstable economy, we could all do with a few more options that help us put (or keep) more pennies in our pockets. Repainting your exterior walls is the way to go about it for anyone looking for a quick home facelift.
Not only will repainting your home save you money, but it will also save you time. If you didn't already know this, repainting your home's exterior will also increase your home's value and the longevity of your siding. Yes, that's right! You can add a couple of years to the lifespan of your siding by giving it a fresh lick of paint.
That being said, picking the correct type of paint is essential. You'll want to ensure that the paint you choose suits your environment's climate and other natural elements. If you live in an area that is prone to termite infestations or other creepy, crawly invaders, there are specific paints that you can use to keep them at bay.
So, if repainting your home can offer you all this and more, why would you ever consider re-siding your home?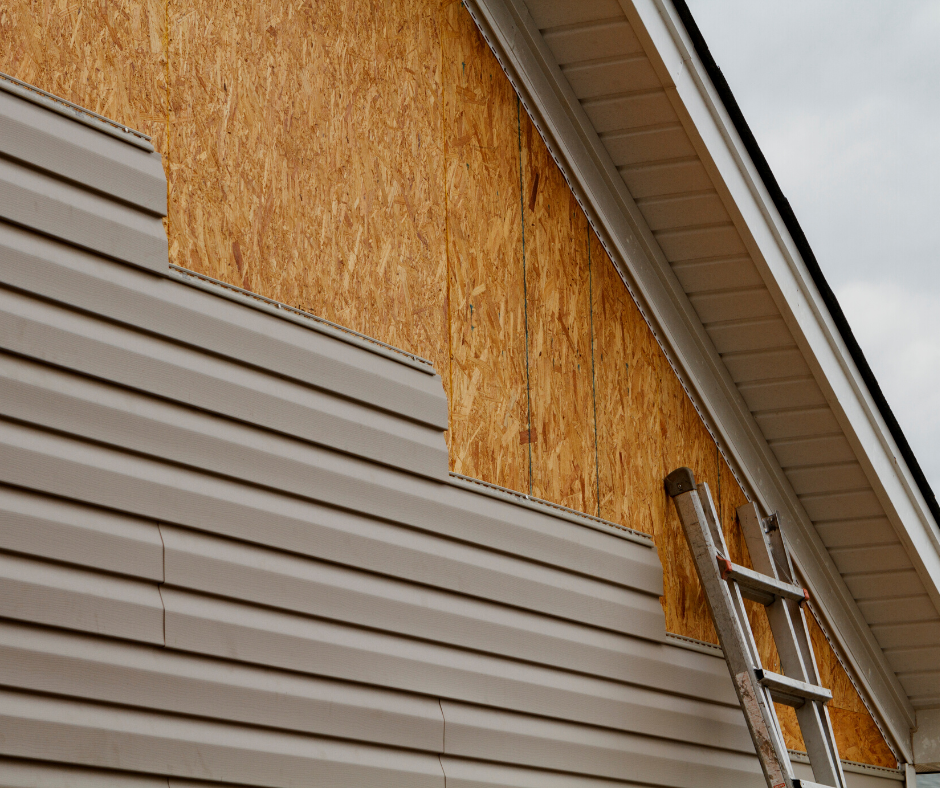 Painting vs. replacing siding in Natick: When is it Time to Re-Side Your Home?
While painting your home's exterior can give your property that extra bit of curb appeal, protect it from bugs, and offer additional protection from the elements, re-siding your home might be the better option. It might sound like a contradiction, but there will come a time when repainting is no longer an option for you. You might need to re-side your home if:
You're not planning on selling your home;
Painting your existing siding is going to be the equivalent of putting a Band-Aid over a broken leg;
It has been several years since you've repainted your home, and the siding is starting to crack under the sun's intense heat.
As you can see, keeping your home's paint fresh and up to date can save you considerable refurbishment heartache.
The Costs of Repainting vs. Re-Siding
Whether you're renovating your home, refurbishing an investment property, or considering what to do with your next property flip, costs must be considered. We've already discussed that repainting your property will almost always be more affordable than re-siding it, but the question is, by how much?
On average, re-siding your home will run you anywhere between $5 and $12 foot. Repainting your home, on the other hand, will run you between $3 and $5 per square foot. It might not seem like much, but the pennies start to add up. If, for example, you have a 1,000-square-foot property to tend to, you would be looking at the following costs:
$5,000-$12,000 for re-siding.
$3,000-$5,000 for repainting.
Don't forget all the costs associated with removing the siding and hauling it off your property for correct disposal!
Let's return to the topic: Is repainting or re-siding your home better?
Summary: Painting vs. replacing siding in Natick 
Repainting your home's exterior seems to be the lesser of two evils. It can provide you with just as many benefits as re-siding your home does, with the added benefit of quick turnaround and reduced costs. Just watch for chipping, cracking, and peeling on your siding. If caught early enough, you can find a suitable paint to nip the issue in the bud and rejuvenate the face of your home.
Need to refresh your residential, commercial, or investment property? Get in touch with us today for a custom quote! Please keep your eyes peeled for our next article on the best interior and exterior paint for coastal living.
Link Solutions painting company was built to be that one painting contractor in Natick that delivers on every promise made to homeowners. While every company in town can promise they can paint, not every Natick Painting Company can promise to be on time, stay true to the proposed terms and price, and keep the job site clean. With Link Solutions, painting is painless and truly enjoyable. We join you in your Natick home transformation and let the magic of paint take over to transform the spaces you love in the town you call home.
Check out our latest projects on Facebook.