Uniflex Roof Coating: Have you noticed sleek, modern metal roofs popping up on homes and buildings lately? With their eye-catching profiles and sustainability benefits, it's no wonder metal roofs are becoming so popular!
But here's the thing about metal roofs – they require special maintenance and care for long-lasting performance. The key is using the right protective coating or paint formulated for metal.
Many homeowners with metal roofs have found that Sherwin Williams Uniflex paint is an ideal solution. Uniflex is an elastomeric acrylic coating designed specifically for metal roofing. Unlike other paints that can peel or wear off quickly, Uniflex provides durable protection when professionally applied.
For homeowners investing in new metal roofing or those looking to extend the life of an existing one, Uniflex is worth learning about.
This article will cover what makes Uniflex more effective than traditional metal roof paints. You'll learn about its protective properties and performance benefits. Let's get started!!!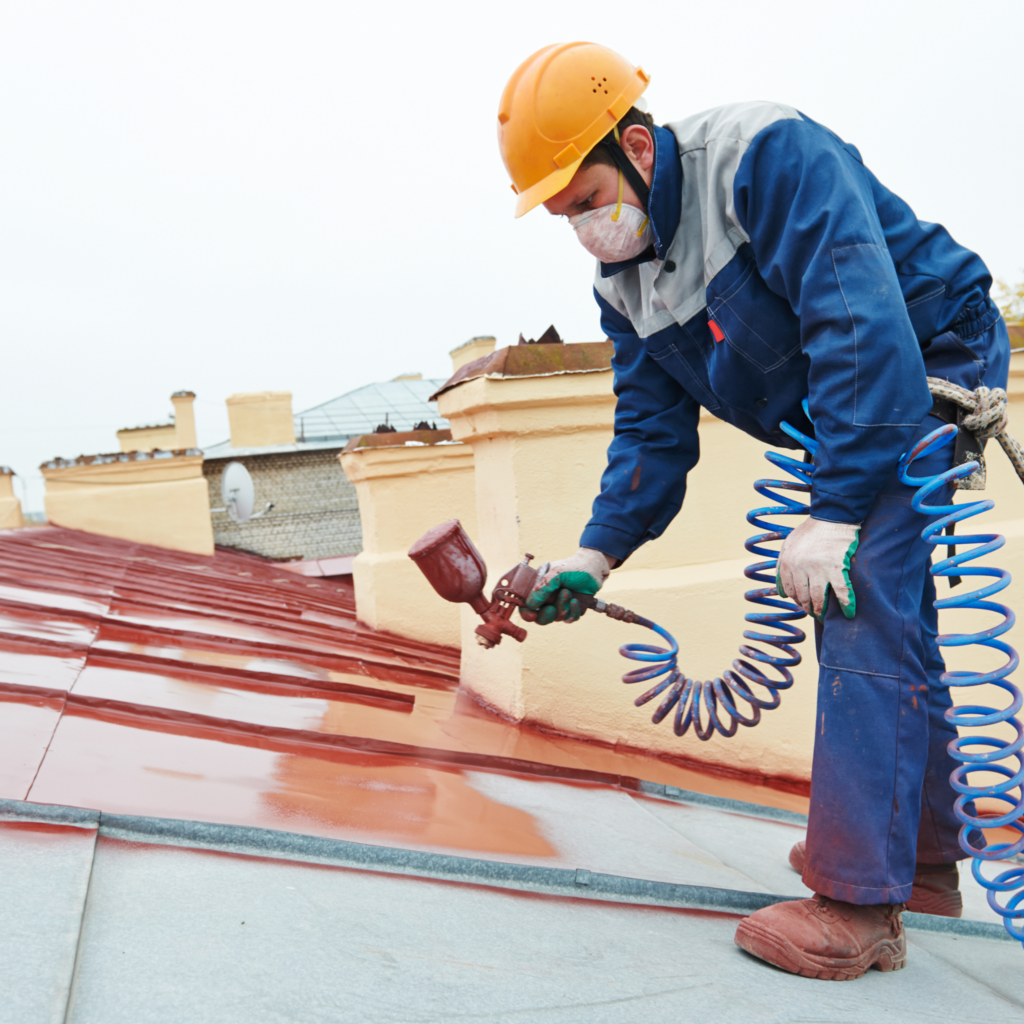 Uniflex Roof Coating: What is Uniflex Paint?
Uniflex is an elastomeric acrylic coating made by Sherwin Williams specifically for metal roofs. It creates a thick, rubber-like membrane that expands and contracts with the metal to prevent cracking, peeling, and corrosion.
Some key benefits of Sherwin Williams Uniflex paint include:
Uniflex Roof Coating: Excellent Adhesion and Flexibility
Uniflex bonds securely to metal and remains flexible to move with the metal through expansion and contraction. This prevents the paint from cracking or peeling.
Reflective White Finish
Uniflex is available in a highly reflective white finish, which helps reduce cooling costs by reflecting heat away from the roof.
Corrosion Resistance
Uniflex provides a waterproof barrier that prevents rust and corrosion on the metal roof surface.
UV Resistance
Unique pigments in Uniflex give it strong resistance to fading or chalking from sun exposure.
Uniflex Roof Coating: Why Uniflex is Ideal for Metal Roofs
What makes Uniflex the ideal choice for coating metal roofs?
Long-Lasting Protection
Uniflex forms a thick elastomeric membrane that provides long-term protection against all weather conditions. Rain, snow, high winds, and UV rays will not penetrate the Uniflex coating. It is designed to stick fast to the metal surface for up to 20 years.
Uniflex Roof Coating: Withstands Extreme Temperatures
Metal roofs experience extreme temperature fluctuations from summer heat to winter cold. The acrylic resins in Uniflex give it the flexibility to expand and contract smoothly along with the metal through temperature swings. This elasticity prevents thermal shock cracks from forming in the coating.
Bridges Minor Imperfections
Since metal roofing sheets can develop small cracks or punctures over time, Uniflex works to bridge these flaws. The thick elastomeric film will stretch and flex over minor imperfections to prevent leaks.
Excellent Color Retention
Uniflex contains UV absorbers that prevent the white coating from yellowing or fading. This ensures the reflective properties last longer to combat heat gain.
Low Maintenance
A Uniflex-coated metal roof only needs periodic washing to keep its reflective properties. It does not require frequent re-coating like other paints. This saves significantly on maintenance costs.
Uniflex Roof Coating: Environmentally Responsible
Uniflex is formulated with low VOC levels and is CRRC and Title 24 compliant. It meets regulations for reflectivity and emissivity.
Uniflex Roof Coating: How to Apply Uniflex to a Metal Roof
Proper application is critical to getting the full benefits of Uniflex on a metal roof. Here are some application tips:
Surface Prep
The metal should be cleaned thoroughly to remove oil, grease, chalking paint, or rust. Scrub with a TSP substitute cleaner, then rinse well.
Priming
For optimal adhesion, first apply Sherwin Williams Kem Kromik® Universal Metal Primer. This will provide extra corrosion protection.
Rolling on Uniflex
Use a 3/4″ nap roller to apply an even, continuous coat of Uniflex. Work in sections and maintain a wet edge.
Spraying Uniflex
For large metal roof areas, airless spray application is recommended. Use a .019-.021 tip, and overlap passes 50%.
Coverage Rate
Uniflex covers approx. 75-100 sq ft per gallon per coat, depending on the metal roof's profile.
Dry Time
Allow 2-4 hours for drying between coats. Two coats are recommended for maximum protection.
Clean Up
Uniflex cleans up easily with soap and water before it dries. Mineral spirits can be used after.
Proper metal roof prep, priming, and application of Uniflex will provide decades of protection. Consult with Sherwin Williams for full specifications.
Uniflex Roof Coating: The Benefits of Uniflex Speak for Themselves
In summary, Sherwin Williams Uniflex offers metal roofs:
Long-lasting, all-weather protection from corrosion, leaks, and finish deterioration
Seamless flexibility through expansion/contraction cycles and temperature swings
Enhanced energy efficiency thanks to its reflective white finish
Excellent color and gloss retention for long-term aesthetics
Low maintenance requirements compared to typical metal roof paints
Facility managers and homeowners alike can feel confident relying on Uniflex. When properly applied by a professional contractor, a Uniflex-coated metal roof will provide maximum durability with minimal upkeep.
Uniflex Roof Coating: Give Your Metal Roof the Best – Uniflex Protection
If your commercial or residential building relies on a metal roof, ensure it's coated with Uniflex elastomeric acrylic from Sherwin Williams. This high-performing paint will enhance the roof's longevity, weatherability, and efficiency.
Contact a Link Solutions Painting Company today to learn more about specifying Uniflex for your next metal roofing project. Our team of technical experts can provide recommendations to ensure your roof gets the long-lasting Uniflex protection it deserves. Your metal roof is a significant investment – keep it performing optimally for decades with durable, reflective Uniflex.
Check us out on Facebook!