Types of Benjamin Moore paint for your home: Benjamin Moore paint is one of the leading brands on the market for several reasons. The main reasons to consider using it on the interior and exterior of your home include easy application, accurate coverage, durability, and fade resistance. It can stand up to the elements and your family with ease. These qualities also make Benjamin Moore's paint a wallet-friendly option. Choosing the right type of paint for your project is vital to realize the full benefit, regardless of the brand.
Types of Benjamin Moore Paint for your Home: Why Choosing the Right Paint is Important.
When you think about paint, the first thing that comes to mind is likely the color. After all, you're looking for a way to change things up. While color matters, the more critical issue is the paint type. For example, you want to use paint that's easy to clean in children's rooms, bathrooms, and other frequently used areas. You'll recognize Benjamin Moore by name, but you may not realize that there are types of paint to choose from.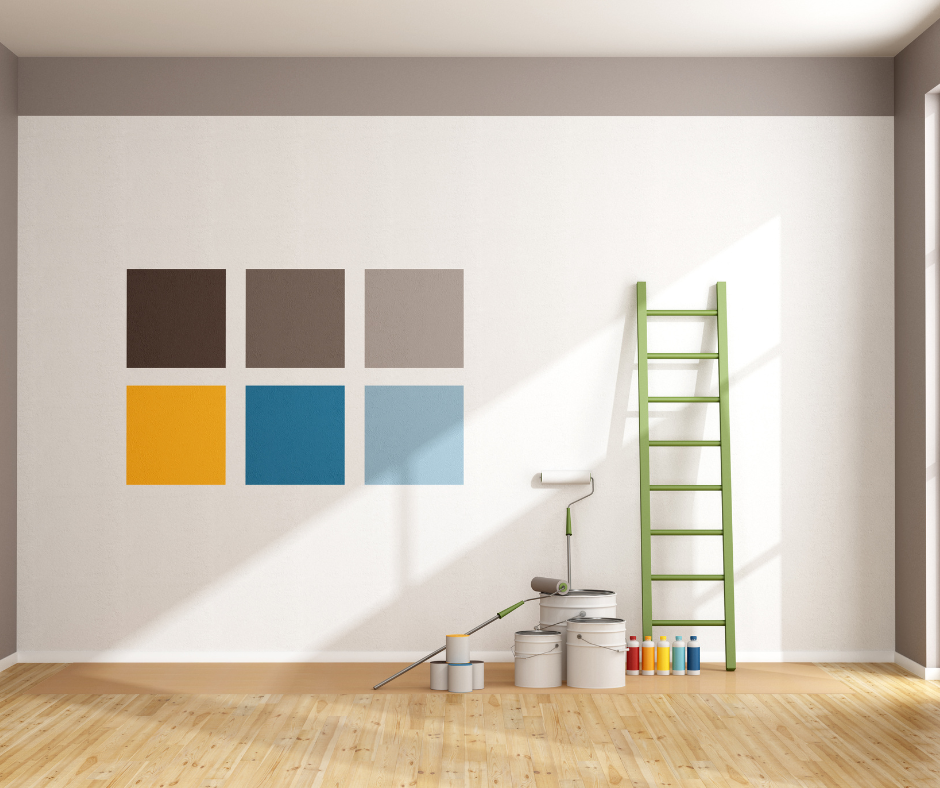 What Types of Paint Does Benjamin Moore Make?
Like many products, Benjamin Moore paint comes in grades from economy to premium. Each paint type provides unique benefits that make it ideal for specific applications. Of course, there are also different finishes for each type of paint. You've assured success if you choose the appropriate type and grade of paint.
Types of Benjamin Moore paint for your home: Aura Interior Paint.
This is Benjamin Moore's premium paint offering; you get what you pay for. The low VOC formula means there's no harsh smell or potential for respiratory issues. Because it's a paint and primer in one, it's an excellent value, but that's just the beginning. The thick paint provides superb coverage; you don't have to use as much to get the desired results as a lower-quality paint. The Aura Bath and Spa is a unique formulation designed for humid and steamy environments like a bathroom, laundry room, or kitchen.
Regal Select Interior Paint
The Regal Select is head and shoulders above other brands for a mid-range paint. As with the Aura, it's a paint and primer in one, provides mildew resistance, is easy to apply, and provides exceptional coverage. Finishes for this type of paint include Flat, Matte, Eggshell, Pearl, and Semi-gloss. Stain-release technology makes cleaning the painted surface a breeze, which is why it's great for high-traffic areas in your home.
Ben Interior Paint
Benjamin Moore's economy paint is called Ben. Affordability, ease of use, and superior coverage are expected. You don't have to worry about a big paint mess either. Ben is splatter resistant. It also dries quickly, allowing for near-instant application of the all-important second coat. Whether you need a flat, semi-gloss, or satin finish, Ben is an excellent choice for any room in your home.
AURA Exterior Paint Flat
Aura is one of the best paints on the market for exterior painting. As all Benjamin Moore paints, it goes on smoothly and efficiently. It's also swift drying, so there isn't a long wait time between coats. In the long run, it's also incredibly durable and fade-resistant for a long-lasting, beautiful, protective finish. Choose from flat, low luster, satin, or soft gloss.
Get Professional Painting Services Using the Best Paints
Paint can transform a dull, lifeless room into a beautiful space you never want to leave. But a bad paint job is just as bad as worn, faded paint, and unless you're very experienced, DIY painting isn't a great idea. It takes skill and experience to prep for painting to ensure the finish is smooth properly. Paint must be applied carefully to avoid drips, light spots, and other issues later. Our painters are the best in the business, and we can easily handle the job.
Whether you need a room or your entire home painted, count on the painting experts at Link Solutions to get the job done right. We only use the finest paints, as the ones from Benjamin Moore mentioned above, and our work is precise, fast, and efficient. We will be happy to talk to you about your project in Rhode Island or Massachusetts; call 339-230-7993 to request an appointment.
Check out our reviews on Google!
See our latest project posts on Facebook.